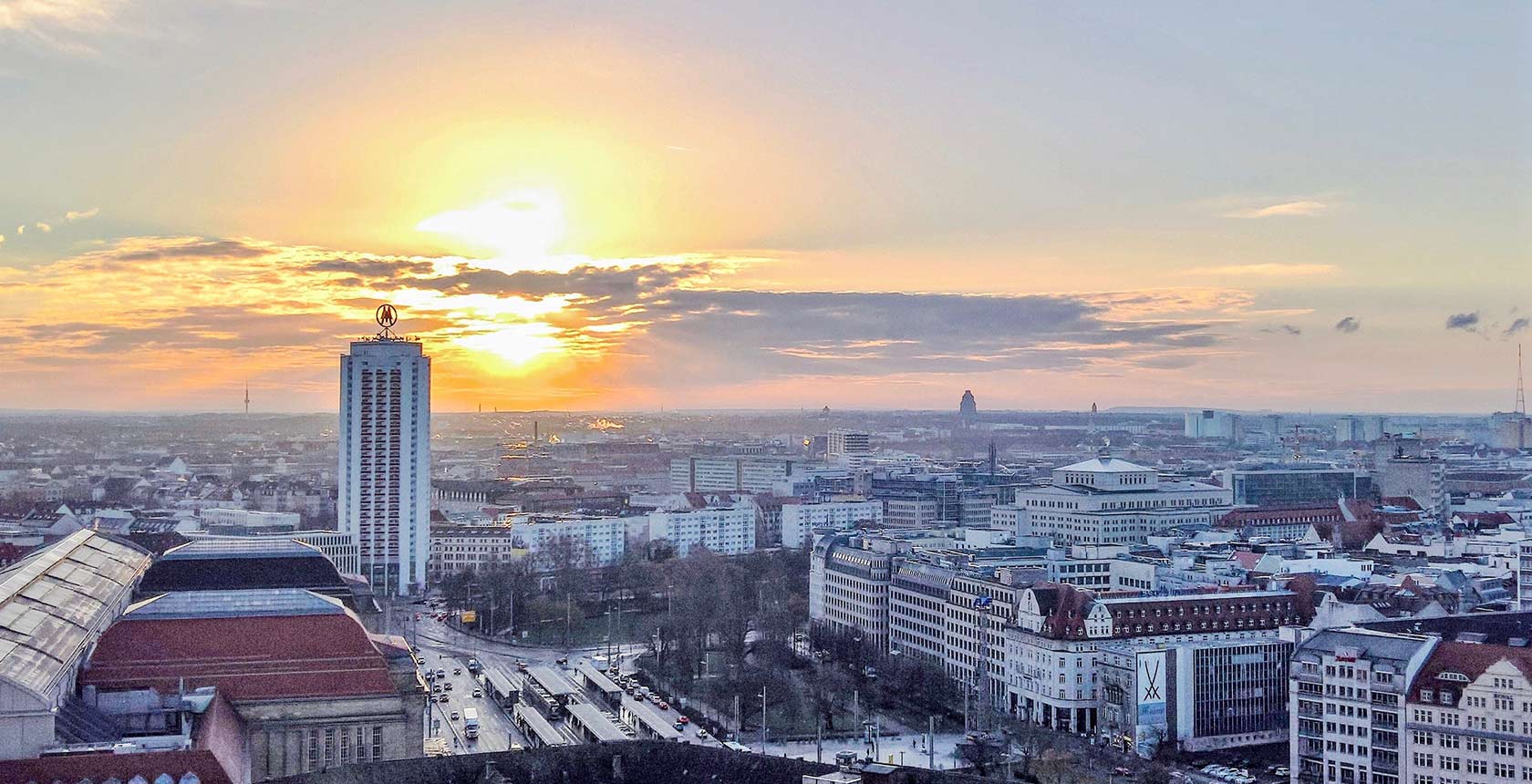 Increased pace of housing construction in Leipzig. Only four German cities have seen more owner-occupied homes sold
The real estate sector, city politicians and associations had repeatedly urged the construction of more homes in Leipzig. As a real estate company we are familiar with the underlying conditions in the city and aware that the creation of new housing still lags behind the growth in the number of inhabitants. IKS Holding is itself helping to ensure that the growing demand for attractive housing can be satisfied. As Colliers International state in their latest market report, "Residential Investment: Residential and commercial properties", the developments of recent months give grounds for optimism: the real estate consulting company discovered that a total of 2,333 new homes were completed in Leipzig in 2018 – the highest construction volume of the last five years. During this period Leipzig has added over 35,000 households. Despite this, only around 8,600 new homes have been completed. However, in 2018 building approval was granted for 3,850 homes, with the result that new living space can be added at a faster pace in the coming years. The Saxon metropolis currently has 336,885 homes with an average size of 70 m2 and rents for new lets standing at 6.50 euro/m2. Colliers International also revealed that Leipzig has the fifth-highest number of sales of owner-occupied dwellings in Germany.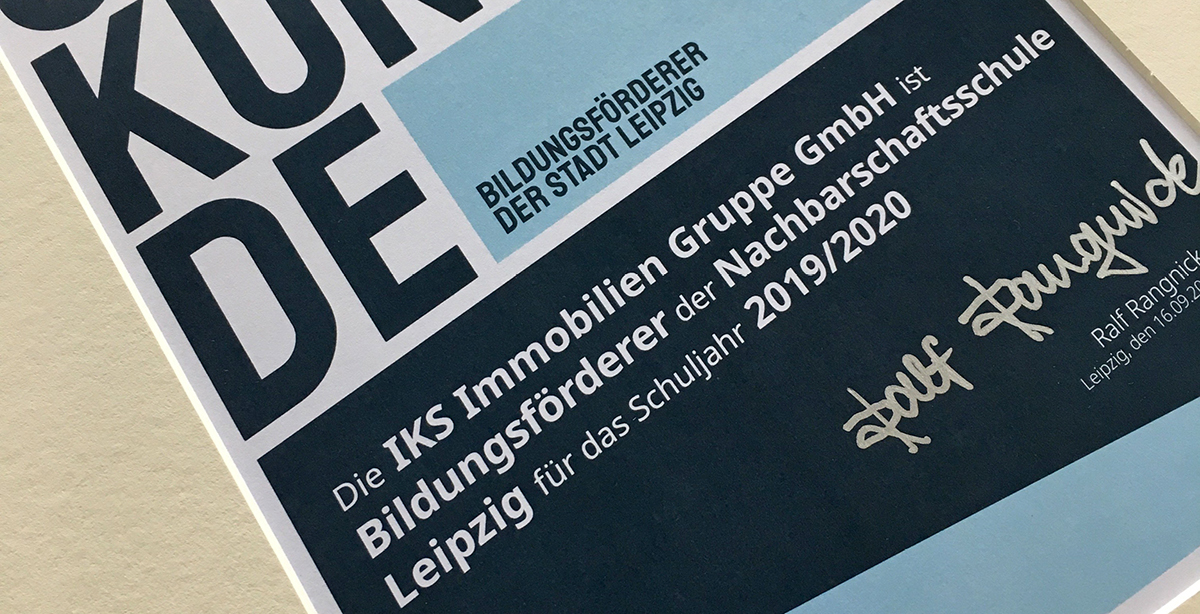 IKS Holding supports Ralf Rangnick Stiftung school project
It is now official: as IKS we are supporting the foundation Ralf Rangnick Stiftung in the realisation of its education project "Unternehmen machen Schule", which links primary schools in Leipzig to sponsors from the regional economy. We are thereby a certified education sponsor of the city of Leipzig and patron of the Nachbarschaftsschule in Lindenau for the 2019/20 school year.
As a local company it gives us great pleasure to support this new educational foundation. In the scope of this involvement we will be making a specific contribution to supporting school children, regardless of their social status. The project creates opportunities for primary school children to experience curriculum subjects interactively whilst also focusing on social issues as an enrichment. We also share the convictions of the Ralf Rangnick Stiftung: education is the basis for a strong and future-capable society. We are looking forward to this sponsorship project!
The latest construction trends: Efficient floor plans and intelligent systems
An attentive stroll along the streets of Leipzig often reveals an exciting range of different architectural styles and trends in a single section of street. IKS Holding strives to promote this diversity of structural options with each construction project, as well as underscoring the unity of the urban setting as a whole. We incorporate practicable trends and – here and there – set our own trends in Leipzig. It is consequently all the more interesting for us, our partners and customers to cast an eye over the latest trends in construction. These were recently commented on by Christoph Windscheif, press spokesperson of the prefabricated housing trade body Bundesverband Deutscher Fertigbau, a reliable source. Windscheif spoke of an ongoing transformation in the construction sector. For example, he pointed out that the trend from pitched roof to flat roof is becoming increasingly apparent – due in part to the use of photovoltaic units. The rectangular form has proved its value when it comes to optimal use of construction space. These have become smaller, more compact and more efficient in recent years. The trend is towards simple, plain forms, not exotic floor plans. The cost factor also plays a role in this. In contrast, façade design is becoming increasingly specialised. Colours, steel and glass combinations or wood are currently popular. "Open-plan living is still with us," says Windscheif. The long-term trend to living space with open kitchen area is linked to our desire for freedom. In contrast, bathrooms are now increasingly no longer being placed directly next to the bedrooms, as was long the case. Private house builders are now creating bathrooms for children instead of guest bathrooms. Energy-efficient smart homes are another emerging trend. These include energy-efficient construction methods and intelligent systems that allow lighting, heating, shutters and other electrical devices to be controlled at the touch of a button.
Windscheif gave his interview to the dpa, printed by the SZ in August 2019.
IKS Holding supports the Gerald Asamoah Foundation for Children with Heart Conditions
Two days filled with emotion! IKS was present at the ADAC GT Masters last weekend – in support of a good cause. As project sponsor for this racing weekend in Hockenheim we visited the team of Leipzig driver Marvin Kirchhöfer. The Callaway Competition team demonstrated that nothing is impossible! On this racing day the team had a special focus on a social project. These sponsorships are initiated and organised by Sportwagen Club e.V. Our sponsored project was the Gerald Asamoah Foundation for Children with Heart Conditions. This foundation is a project close to the heart of the former Germany player. For us, too, it was an opportunity to give something back and provide help where it is urgently needed. Last weekend showed us all that we should never give up – both in sport and regarding social commitment!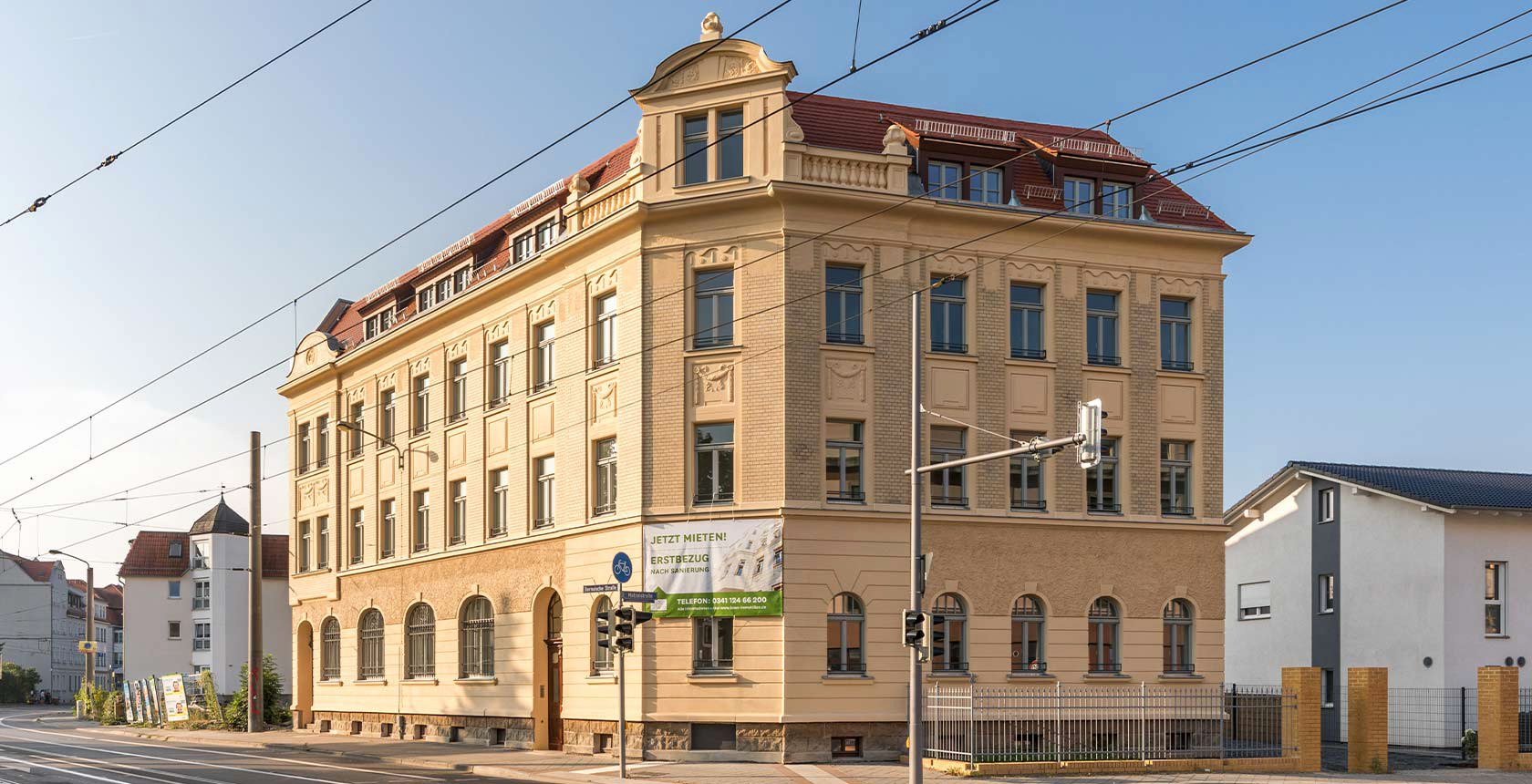 IKS Holding with new Completion of heritage-listed property: Alte Post in Dölitz resplendent once again
IKS Holding GmbH regularly delivers attractive, distinctive residential properties onto the Leipzig market – such as our ALTE POST property at Bornaische Straße 176 in Leipzig-Dölitz. Built in 1909, the heritage-listed building has been carefully restored in accordance with the requirements of the conservation authorities, with the residential units handed over to the new owners. The building houses a total of eight apartments, ranging in size from 79 to 129 square metres. The former counter area on the ground floor of the building, still used as such until the early 1990s, has also been transformed into spacious living area. The yellow corner building with its detailed brick façade will now enhance the district in the south of Leipzig and offer residents a comfortable home with the charm of a Wilhelminian residence. We wish all investors that have acquired apartments in this unusual property every enjoyment and an increase in their value.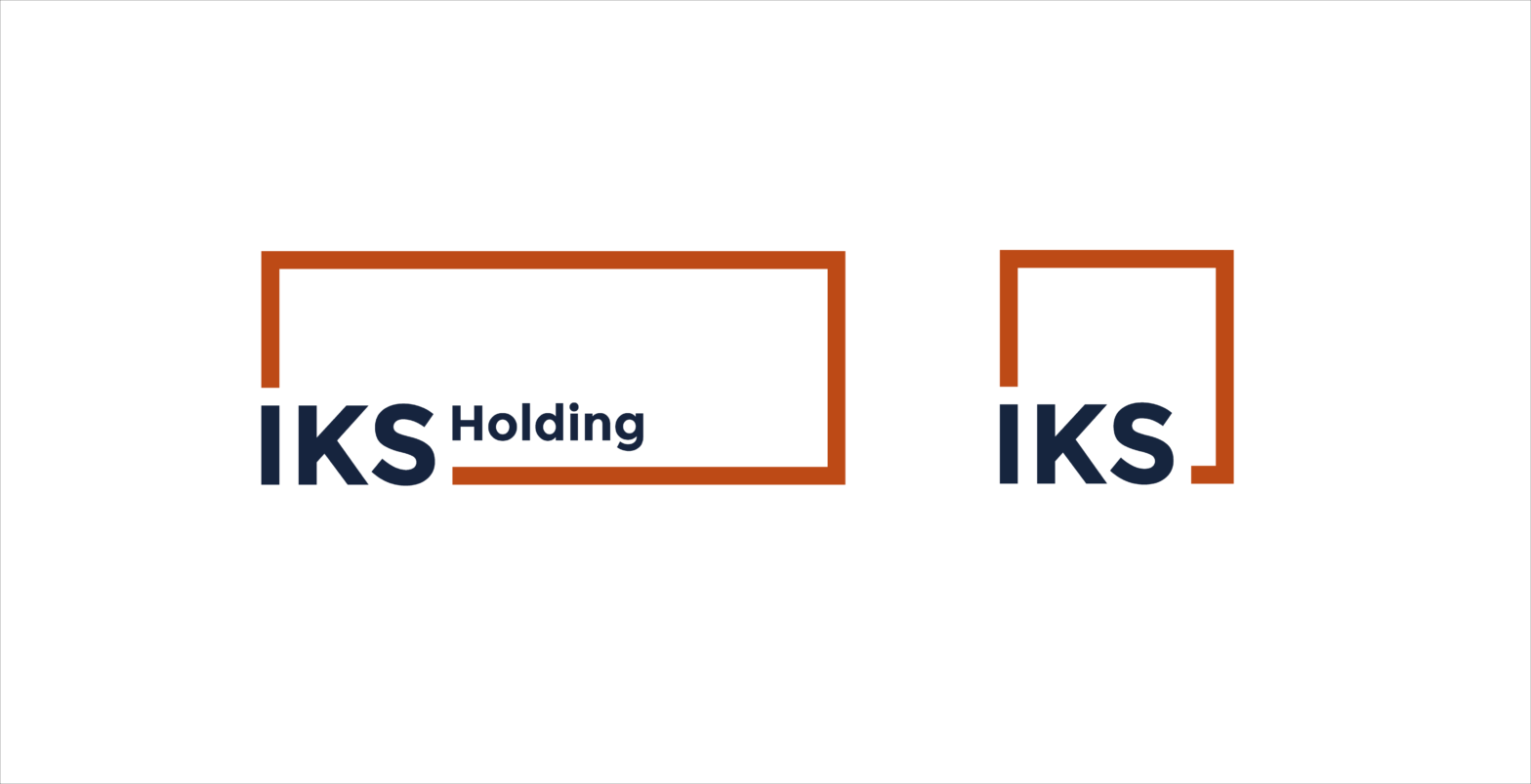 IKS Holding with new corporate design
Our company is developing at a rapid pace. Following the brand relaunch at the beginning of the year and a comprehensive strategic orientation, we are now following up with a corporate design that embodies this new market approach. The new look presents IKS Holding more concisely and distinctively in both inward and outward communication. The new colour we have chosen is "new copper". This signals value and quality, which we also implement in our real estate projects. In contrast, the specialist for real estate sales within the holding, Invest Concept GmbH, is distinguished by "old copper" as new corporate colour. This stands for the noble patina, maturity and tradition, manifested amongst other aspects in the heritage-listed properties that the company markets.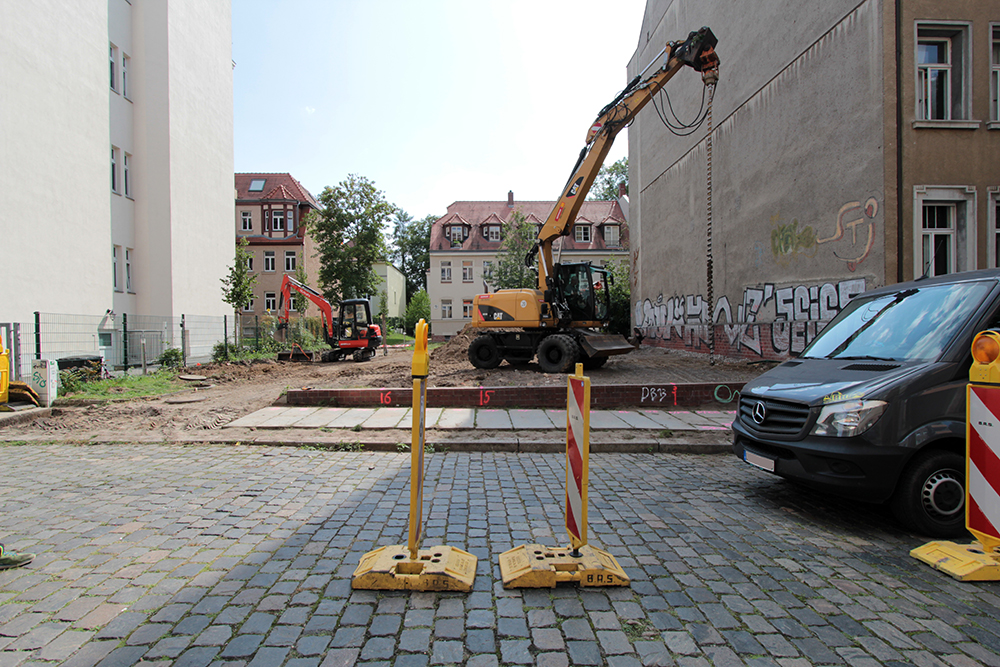 Construction of an exclusive new build starts in the Südvorstadt district of Leipzig
Südvorstadt is still among the most popular neighbourhoods in Leipzig, both as a residential location and a place to work. Embedded within outstanding infrastructure, the district offers everything one could conceivably need: delightful retail outlets, bars, restaurants and clubs. The Clara Zetkin Park and the Auenwald forest are just a stone's throw away as islands of green and wonderful places for leisure and recuperation. The Karl-Liebknecht-Straße, or the 'Karli' as the high street is affectionately known, is a great place to stroll through the neighbourhood and absorb the district's spirit as one of Leipzig's most sought-after locations.
An exclusive new build property is now under construction on Kantstraße, providing urban residential flair to satisfy even the highest standards. With its elegant appearance, the VILLA KANT slips beautifully into the attractive architectural style of the welcoming, homely surroundings. Spread over six storeys, the building will accommodate eight spacious residential units with modern and coveted floor plans of between 87 and 210 square metres. The parking spaces will be built on the ground floor. The contemporary, revolutionary architecture with floor-to-ceiling windows, underfloor heating, balconies, a light-filled and open plan ambience thanks to expansive windows, as well as sanitary facilities by premium brand-name manufacturers, can be taken for granted and will appeal to discerning user groups. Anyone who prefers spaciousness and individuality need look no further than this property, which will be especially attractive to owner-occupiers as well as investors who are keen to locate premium property with a promising future. Our real estate specialists from Invest Concept will gladly provide advice and support in your search for residential property!
Number one spot: Leipzig has the largest number of hotels being built in Germany
No other German city has grown as strongly in recent years as Leipzig. But it is not only regarding population growth that the city occupies the top spot. As industry consultants Dr. Lübke & Kelber have discovered, no other German metropolis has witnessed such a strong growth in the number of hotels. In the summer of 2018 there were 18,922 beds available in Leipzig, an impressive 45 percent more than in the summer of 2011 (13,019 hotel beds). Other cities with larger numbers of guests and larger populations such as Hamburg and Frankfurt/Main saw growth of just 40 percent and less in the same period. In Leipzig the hotel building boom of 2017/18 is particularly noteworthy. However, the consultancy also expects 2019 to see a further 15 percent rise, corresponding to around 21,700 beds. According to recent estimates, overnight stays are only expected to increase by 5 percent, however. Nevertheless, 3.5 million overnight stays could make this a new record year. During the period under observation the number of overnight stays even increased higher than the number of available beds, namely by 58 percent. The annual Bachfest and multiple congresses in June proved to be the guest magnets with the highest room occupancy. A total of seven new hotels are set to open in Leipzig in 2019. The H2 Hotel at the main railway station with 336 rooms will make the largest contribution to the growth in beds. 2020 will then see the renowned Astoria open its doors once again after having been closed for many years. This development shows just how strongly the attractiveness of Leipzig in Germany and worldwide is increasing, creating new opportunities in the real estate sector in particular.
Fewer personnel – higher material costs: why construction projects are becoming increasingly expensive
Cities and municipalities complain that too few homes are being built. But those looking to create living space need to first finance the work before achieving a fair market profit. The media is gradually raising public awareness of the extent to which rapidly-increasing construction costs are becoming a hindrance for many building projects. According to a study conducted by the German Institute for Economic Research (DIW), construction prices have risen by a third since 2005. In February 2019 the Federal Statistical Office recorded a 4.8 percent increase in the costs of residential buildings compared to the same month the preceding year. Five years earlier the price increase was just 1.7 percent. Trades enterprises in particular have moved their profit margins up significantly whilst the number of employees has remained relatively constant. Moreover, there is also an increasing shortage of everything required for construction: in addition to a lack of personnel, this also includes the building land available and the cost-intensive – as increasingly scarce – construction materials. Who would have thought that a shortage of concrete or steel could emerge so quickly? Collective pay increases and statutory regulations are also driving prices upwards. According to WELT, many construction companies have responded by strengthening their equity base. One third of construction firms now has an equity ratio of 30 percent. This is the conclusion drawn from the analysis: things will not get any cheaper for those looking to build in the near future. The entire sector is enjoying a boom, apparently unaffected by the decline in building approvals over the last two years.
Aengevelt report confirms: Leipzig housing market remains under pressure – opportunities for investors
The Aengevelt City Report published each spring has once again attracted the attention of those involved in the Leipzig real estate market. What are the market trends? What is the situation regarding housing construction? How are prices developing? The Aengevelt Report is a key medium of analysis to aid building owners, investors and municipalities in their decision making. The findings of the current study are by no means new. Dr. Wulff Aengevelt bases his forecast for 2019/20 on the fact that by 2039 Leipzig will have "at least 29,500 more inhabitants than at present". Leipzig currently has a deficit of 3,130 homes. In 2018 there were 4,000 building permits issued in the city, but just 2,376 homes were handed over. Construction activity was mostly focused on multi-storey buildings. This year should see the completion of 2,600 new homes. Dr. Aengevelt criticises the excessively long approval processes and recent policy decisions that do not contribute to the construction of new housing. There is also room for improvement regarding the building land on offer. In 2018 Leipzig had a shortage of 959 homes. However, the scarcity of housing is driving up prices. The average rent in Leipzig increased from 5.09 euro/m2 to 6.60 euro/m2 between 2013 and 2018. The subsequent conclusion: no change on the Leipzig real estate market. Clear opportunities still remain for investors, project developers and users.
Building permits for housing continue to decline
Each year sees between 5,000 and 8,000 people move to Leipzig, making it the fastest growing metropolis in Germany. These arrivals see a matching increase in demand for housing – a signal for the construction industry, in view of the vacancy rate of 3.5 percent. However, it is not only Leipzig that is seeing a stagnation in the number of building permits for new housing. As Spiegel online reports, quoting figures of the Federal Statistical Office, the first two months of 2019 saw 0.1 percent fewer building permits granted Germany-wide than in the same period the preceding year – a total of just 49,350. This decline has been underway since 2016. Whilst in their coalition agreement the governing parties agreed to build around 1.5 million homes by 2021 (375,000 per year), the Federal real estate trade body Bundesverband der privaten Immobilienwirtschaft (BFW) says that only 250,000 new homes are expected to be built in 2019. The reasons for this are the lack of building plots and professionals, but also bureaucratic obstacles. This nationwide problem can also be seen here. Only around 1,500 new homes are completed annually in Leipzig. Although the city has unveiled an ambitious funding programme, housing construction remains static, despite the current population increase. At a forum of Deutsche Bank in December leading Leipzig businesspeople called in the mayor to deliver a "major solution" to the problem. IKS Holding echoes this appeal. We are prepared to create modern, high-quality housing in Leipzig to satisfy the ongoing population growth and the demand on the real estate market. Our current projects are examples of how we can realise this.
Online news: the IKS construction journal
Our web presence is still young and we are working on it continuously! Now we have a new service online for you: our construction journal. You will now be able to keep track of the construction progress of our properties. Whether it is the conversion of an industrial monument into modern accommodation, the development of a modern interior behind the historical façade of an apartment building or a new development rising upwards! Be curious, take a look from time to time! As our customers, we keep you up to date!
IKS Holding now with international web presence
The website www.iks-holding.de is now also available in English. Visitors can select a language at the top right of the home page. With this expansion of its internet presence IKS is addressing the developments of the local real estate market and is ideally placed for the optimal alignment of further business activities. Founded in Leipzig in 2003 as a real estate group, IKS has succeeded in becoming a significant, comprehensive real estate services provider in the regional market. The establishment of the new umbrella company, IKS Holding GmbH, at the beginning of the year marked a key step in the further growth of the company and the realisation of comprehensive residential and commercial properties. The English language website now marks a second step, enabling the company to also address potential international customers and enter into professional contact with these.
IKS has evolved into a leading project developer and builder in Leipzig and the surrounding area thanks to numerous challenging renovation projects involving heritage-listed residential and commercial buildings. In addition to the revitalisation of historical buildings, recent years have also seen the project management and realisation of new buildings move into increasing focus in the corporate portfolio. The corporate group is also active as a real estate broker and property manager. IKS is currently working on 28 projects in and around Leipzig.
Real estate portal Immowelt forecasts rising real estate prices
The current situation is not going to change any time soon—the population of cities like Leipzig continues to grow, and the European central bank is sticking to its policy of low interest rates. These are the main drivers behind the continued increase in prices up to as much as €1,000 per square meter by 2020 according to a study from the real estate portal Immowelt. Builders and buyers would be well-advised to make quick decisions now. A 100 m² apartment in Munich, for instance, might cost up to €100,000 more by the end of next year. A comparable apartment in Hamburg could go for €50,000 more. This trend can also be observed in cities such as Leipzig which, according to the real estate agency startup Homeday, saw prices for residential real estate increase by 41.9 percent, enough to rank 3rd in Germany. Homeday also sees the current interest rate trends and Germany's new Baukindergeld homebuilding subsidy for families with young children as strong incentives for real estate buyers. With demand remaining strong, this will continue to drive prices even higher. Immowelt expects prices to increase by 13 percent on average across Germany. In the 14 largest German cities, prices will increase between five and 15 percent according to the study. The study was based on data about interest rates, local construction prices, inflation statistics, and demographic trends. Independent economic experts such as Tobias Just, professor for real estate economics and the managing director of the International Real Estate Business School (IREBS) of the University of Regensburg note that this rapid rise in prices is a clear indication that real estate is indispensable as an investment tool.
"Villa Kant – our latest property" as seen in the Leipziger Volkszeitung on March 2, 2019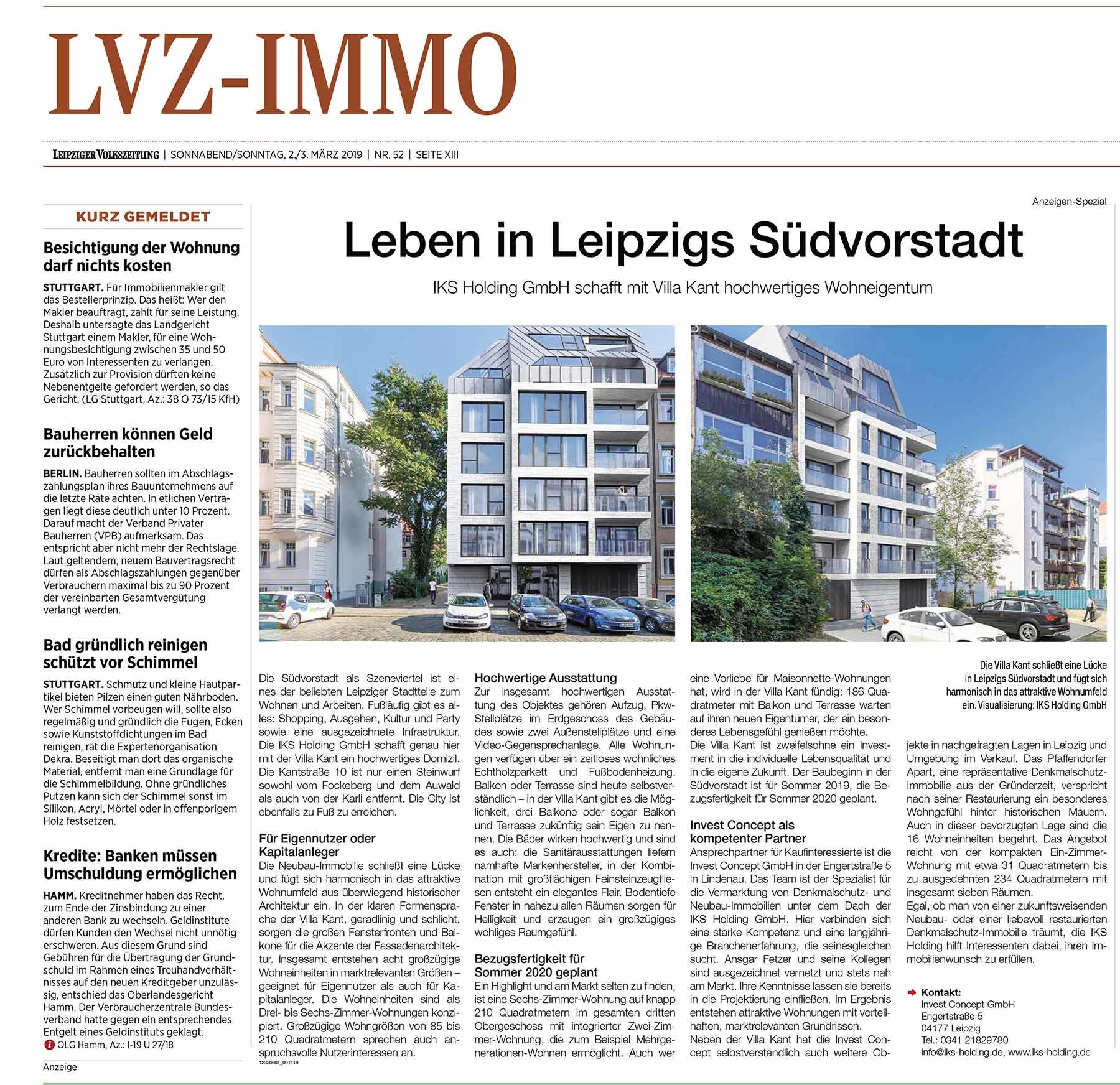 Download article: "Villa Kant—our latest property" as seen in the Leipziger Volkszeitung on March 2, 2019
Construction starts: The renovation of another historical property in Plagwitz-Süd begins
After several properties in Lindenau, we're now starting the renovation of another historical building in Plagwitz-Süd. Plagwitz continues to grow in popularity both as a residential neighborhood and a location for businesses. The historical charm of its old industrial buildings, the high proportion of architecture under preservation, outstanding infrastructure, and the proximity to the park make this district particularly attractive. The Karl-Heine-Kanal and the lively Karl-Heine-Straße give the neighborhood its special atmosphere.
With the historical renovation of this building on Antonienstraße from 1899, we're preserving another piece of history for future generations. We will carefully restore this historical building and tastefully integrate modern amenities into its interior. The impressively decorated facade and the ornamental wall designs in the stairwell will be restored to their original glory. Ten luxury apartments will available in the Antonienstraße when the work is complete. They will have floor heat, hardwood floors, balconies/patios, designer tile in the bathrooms, and name-brand bathroom fixtures. The apartments range in size from 57 to 70 square meters and are suitable for singles, pairs, and families.
February 2019
IKS Immobilien Gruppe becomes IKS Holding
IKS sets sights on further growth within the industry
Perfect conditions created for comprehensive residential and commercial construction projects
Unified branding and communication with a new logo and website, www.iks-holding.de
Leipzig, February 12, 2019: Effective immediately, IKS Immobilien Gruppe will operate as IKS Holding. With the founding of the new holding company, IKS Holding GmbH, managing director Vasyl Senyuk has put the real estate service provider on track for continued growth in the Leipzig market.
The conversion of the group into a holding company paves the way for large-scale residential and commercial construction projects in Leipzig and the surrounding region. "Part of this important step in the expansion of our business is our corporate branding refresh. We have symbolized our more ambitious plans with a new company logo and a new website that reflect our objectives on the market. Consistency and transparency are the messages we're communicating to the world—these are two values we've always held dear," Vasyl Senyuk said.
The new website reflects the complexity of IKS Holding. The site, www.iks-holding.de, does more than simply display reference projects. Recent listed properties and new construction from the company's portfolio are also presented to investors, residents, and institutions. The company's latest activities will also be reported in the News section.
The realignment of the company's brand communications will serve to reposition IKS Holding as an experienced, full-service partner in the industry. All aspects of real estate are covered including acquisition, real estate agency services, and the development, construction, rental, and management of residential and commercial units. Vasyl Senyuk: "We are currently working on several pioneering projects. Our customers and partners stand to benefit from these new developments in our business."
About IKS Holding GmbH
The IKS group was founded in 2003 in Leipzig by Vasyl Senyuk. By successfully completing numerous challenging restorations of listed historical residential and commercial properties, the group of companies became a major developer and builder in Leipzig and its surroundings. In addition to restoring historical structures, recent work has focused on project development and new construction. The group is also active as a real estate agency and property manager.
IKS is currently working on 28 projects in and around Leipzig.
Media contact:
IKS Holding GmbH
Dagmar Klemig
Tel. 0341 21829784
presse@iks-holding.de
www.iks-holding.de
February 12, 2019
IKS Holding has a new website
The new website of IKS Holding with its refreshed branding is now available online. We provide information about our group of companies on the site, present references, and of course show you the properties that we are currently offering on the Leipzig real estate market. The News section of the site will keep you up to date on the latest activities of our organization including construction start dates, availability of new properties for sale, or the completion of a building. Stop by often—we look forward to seeing you there.