Building permits for housing continue to decline
Each year sees between 5,000 and 8,000 people move to Leipzig, making it the fastest growing metropolis in Germany. These arrivals see a matching increase in demand for housing – a signal for the construction industry, in view of the vacancy rate of 3.5 percent. However, it is not only Leipzig that is seeing a stagnation in the number of building permits for new housing. As Spiegel online reports, quoting figures of the Federal Statistical Office, the first two months of 2019 saw 0.1 percent fewer building permits granted Germany-wide than in the same period the preceding year – a total of just 49,350. This decline has been underway since 2016. Whilst in their coalition agreement the governing parties agreed to build around 1.5 million homes by 2021 (375,000 per year), the Federal real estate trade body Bundesverband der privaten Immobilienwirtschaft (BFW) says that only 250,000 new homes are expected to be built in 2019. The reasons for this are the lack of building plots and professionals, but also bureaucratic obstacles. This nationwide problem can also be seen here. Only around 1,500 new homes are completed annually in Leipzig. Although the city has unveiled an ambitious funding programme, housing construction remains static, despite the current population increase. At a forum of Deutsche Bank in December leading Leipzig businesspeople called in the mayor to deliver a "major solution" to the problem. IKS Holding echoes this appeal. We are prepared to create modern, high-quality housing in Leipzig to satisfy the ongoing population growth and the demand on the real estate market. Our current projects are examples of how we can realise this.
Online news: the IKS construction journal
Our web presence is still young and we are working on it continuously! Now we have a new service online for you: our construction journal. You will now be able to keep track of the construction progress of our properties. Whether it is the conversion of an industrial monument into modern accommodation, the development of a modern interior behind the historical façade of an apartment building or a new development rising upwards! Be curious, take a look from time to time! As our customers, we keep you up to date!
IKS Holding now with international web presence
The website www.iks-holding.de is now also available in English. Visitors can select a language at the top right of the home page. With this expansion of its internet presence IKS is addressing the developments of the local real estate market and is ideally placed for the optimal alignment of further business activities. Founded in Leipzig in 2003 as a real estate group, IKS has succeeded in becoming a significant, comprehensive real estate services provider in the regional market. The establishment of the new umbrella company, IKS Holding GmbH, at the beginning of the year marked a key step in the further growth of the company and the realisation of comprehensive residential and commercial properties. The English language website now marks a second step, enabling the company to also address potential international customers and enter into professional contact with these.
IKS has evolved into a leading project developer and builder in Leipzig and the surrounding area thanks to numerous challenging renovation projects involving heritage-listed residential and commercial buildings. In addition to the revitalisation of historical buildings, recent years have also seen the project management and realisation of new buildings move into increasing focus in the corporate portfolio. The corporate group is also active as a real estate broker and property manager. IKS is currently working on 28 projects in and around Leipzig.
Real estate portal Immowelt forecasts rising real estate prices
The current situation is not going to change any time soon—the population of cities like Leipzig continues to grow, and the European central bank is sticking to its policy of low interest rates. These are the main drivers behind the continued increase in prices up to as much as €1,000 per square meter by 2020 according to a study from the real estate portal Immowelt. Builders and buyers would be well-advised to make quick decisions now. A 100 m² apartment in Munich, for instance, might cost up to €100,000 more by the end of next year. A comparable apartment in Hamburg could go for €50,000 more. This trend can also be observed in cities such as Leipzig which, according to the real estate agency startup Homeday, saw prices for residential real estate increase by 41.9 percent, enough to rank 3rd in Germany. Homeday also sees the current interest rate trends and Germany's new Baukindergeld homebuilding subsidy for families with young children as strong incentives for real estate buyers. With demand remaining strong, this will continue to drive prices even higher. Immowelt expects prices to increase by 13 percent on average across Germany. In the 14 largest German cities, prices will increase between five and 15 percent according to the study. The study was based on data about interest rates, local construction prices, inflation statistics, and demographic trends. Independent economic experts such as Tobias Just, professor for real estate economics and the managing director of the International Real Estate Business School (IREBS) of the University of Regensburg note that this rapid rise in prices is a clear indication that real estate is indispensable as an investment tool.
"Villa Kant—our latest property" as seen in the Leipziger Volkszeitung on March 2, 2019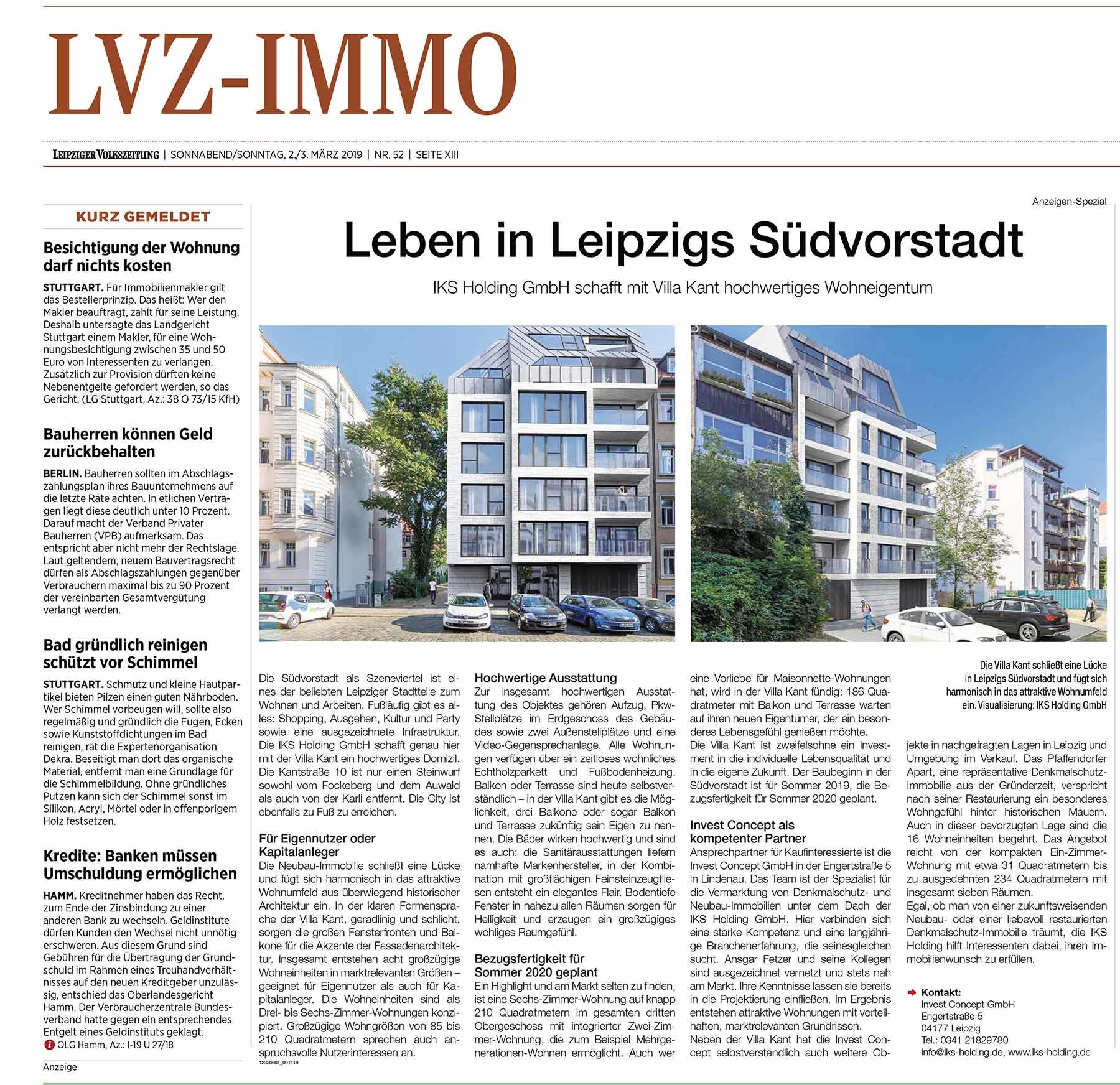 Download article: "Villa Kant—our latest property" as seen in the Leipziger Volkszeitung on March 2, 2019
Construction starts: The renovation of another historical property in Plagwitz-Süd begins
After several properties in Lindenau, we're now starting the renovation of another historical building in Plagwitz-Süd. Plagwitz continues to grow in popularity both as a residential neighborhood and a location for businesses. The historical charm of its old industrial buildings, the high proportion of architecture under preservation, outstanding infrastructure, and the proximity to the park make this district particularly attractive. The Karl-Heine-Kanal and the lively Karl-Heine-Straße give the neighborhood its special atmosphere.
With the historical renovation of this building on Antonienstraße from 1899, we're preserving another piece of history for future generations. We will carefully restore this historical building and tastefully integrate modern amenities into its interior. The impressively decorated facade and the ornamental wall designs in the stairwell will be restored to their original glory. Ten luxury apartments will available in the Antonienstraße when the work is complete. They will have floor heat, hardwood floors, balconies/patios, designer tile in the bathrooms, and name-brand bathroom fixtures. The apartments range in size from 57 to 70 square meters and are suitable for singles, pairs, and families.
February 2019
IKS Immobilien Gruppe becomes IKS Holding
IKS sets sights on further growth within the industry
Perfect conditions created for comprehensive residential and commercial construction projects
Unified branding and communication with a new logo and website, www.iks-holding.de
Leipzig, February 12, 2019: Effective immediately, IKS Immobilien Gruppe will operate as IKS Holding. With the founding of the new holding company, IKS Holding GmbH, managing director Vasyl Senyuk has put the real estate service provider on track for continued growth in the Leipzig market.
The conversion of the group into a holding company paves the way for large-scale residential and commercial construction projects in Leipzig and the surrounding region. "Part of this important step in the expansion of our business is our corporate branding refresh. We have symbolized our more ambitious plans with a new company logo and a new website that reflect our objectives on the market. Consistency and transparency are the messages we're communicating to the world—these are two values we've always held dear," Vasyl Senyuk said.
The new website reflects the complexity of IKS Holding. The site, www.iks-holding.de, does more than simply display reference projects. Recent listed properties and new construction from the company's portfolio are also presented to investors, residents, and institutions. The company's latest activities will also be reported in the News section.
The realignment of the company's brand communications will serve to reposition IKS Holding as an experienced, full-service partner in the industry. All aspects of real estate are covered including acquisition, real estate agency services, and the development, construction, rental, and management of residential and commercial units. Vasyl Senyuk: "We are currently working on several pioneering projects. Our customers and partners stand to benefit from these new developments in our business."
About IKS Holding GmbH
The IKS group was founded in 2003 in Leipzig by Vasyl Senyuk. By successfully completing numerous challenging restorations of listed historical residential and commercial properties, the group of companies became a major developer and builder in Leipzig and its surroundings. In addition to restoring historical structures, recent work has focused on project development and new construction. The group is also active as a real estate agency and property manager.
IKS is currently working on 28 projects in and around Leipzig.
Media contact:
IKS Holding GmbH
Dagmar Klemig
Tel. 0341 21829784
presse@iks-holding.de
www.iks-holding.de
February 12, 2019
IKS Holding has a new website
The new website of IKS Holding with its refreshed branding is now available online. We provide information about our group of companies on the site, present references, and of course show you the properties that we are currently offering on the Leipzig real estate market. The News section of the site will keep you up to date on the latest activities of our organization including construction start dates, availability of new properties for sale, or the completion of a building. Stop by often—we look forward to seeing you there.